Operational Agility: More than Laptops and Zoom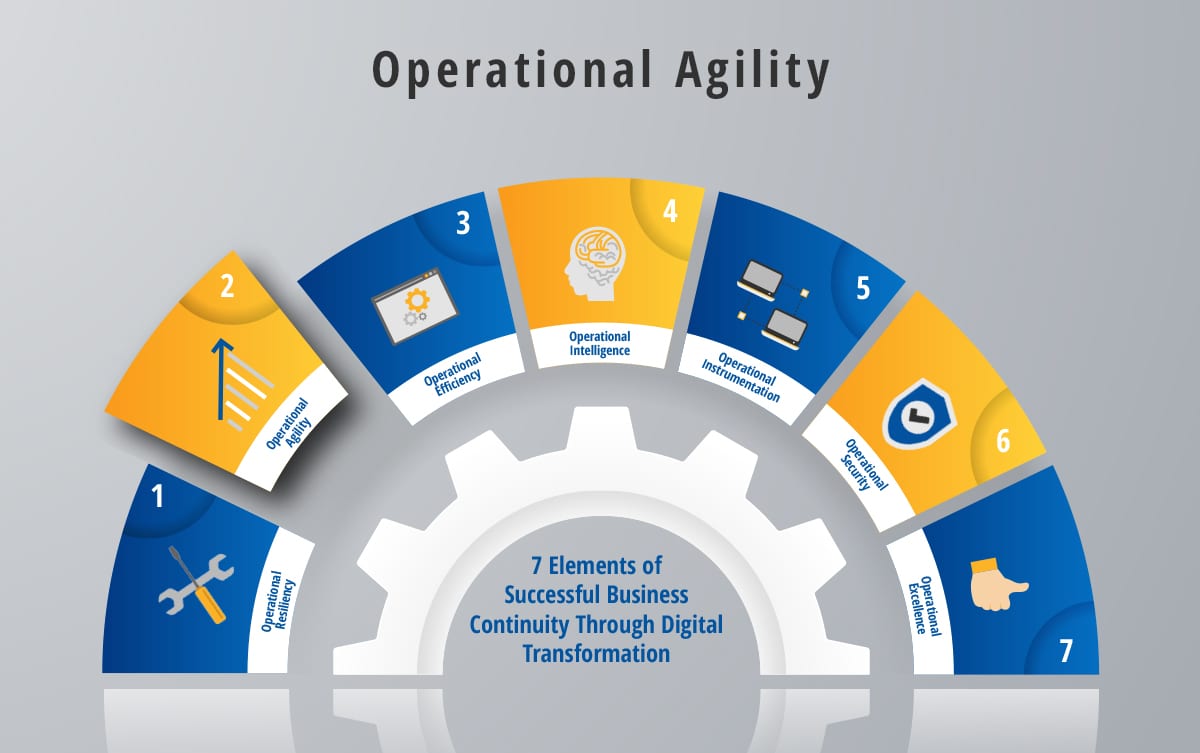 Remote workforce management is a major challenge during the COVID-19 global pandemic.
Remote work began decades ago and has steadily increased in popularity over time, but while some organizations have encouraged employees to work from home, many are not prepared to support their entire workforce remotely. This requires additional support staff, processes, and infrastructure necessary to manage the remote workforce effectively.
In this blog post, we provide context for how the COVID-19 pandemic and quarantine uncertainty is impacting remote workforce management. We also outline the trends that have emerged during this change in workflow. Finally, we'll offer our best digital transformation practices for remote workforce management to achieve operational agility.
Challenges with Managing a Remote Workforce
Many businesses allow remote working either full time or on an occasional basis. Most of these businesses already have processes in place for remote workforce management. However, the major challenge is to scale those processes quickly and efficiently to accommodate much higher volumes of remote workers without interrupting services. For many companies, this was something they had never prepared for. Moving to the cloud and using online tools sounds simple and easy, but when it comes to meeting compliance regulations, you need to take extra care. Enabling your workforce with cloud-enabled collaboration tools is not only a technical challenge but also brings about legal and cultural considerations. Luckily, I have seen many of the challenges that IT faces when moving to the cloud. In this article, we will share best practices for remote work, and showcase some of the ways they can be addressed without impacting your employees' ability to collaborate effectively and stay productive while maintaining security, compliance, and privacy.
Notable Trends in the Remote Workforce
First, the necessity of remote work has led organizations to quickly reevaluate how staff accesses information. They cannot guarantee the quality, stability, or security of their users' home network, and what was a big part of how risk was identified—a user trying to access resources remotely for example—is now part of the norm post-pandemic. Organizations moving toward operational agility must balance the demands of a remote workforce as well as the appropriate security considerations.
Second, IT teams are under enormous amounts of pressure to maintain business continuity and spin up new technologies to enable remote work. A sudden shift in priorities could increase the risk of attacks on resources going unnoticed, especially if the attacks are subtle in nature, like network reconnaissance.
How can you continue to monitor based on user activity, and how do you continue to protect on-premises resources when everyone is using cloud technologies to work through this period of uncertainty?
Consider the implications of document sharing where customer data is involved, especially in a highly regulated environment. For a situation like this, you no longer need to set up a costly infrastructure and wait for days. Today, with the power of cloud, SaaS products can be enabled in your tenant organization with tight controls to stop data leakage.
Best Practices for Remote Workload Management
Successfully building and managing remote teams is mission critical in an ongoing pandemic. Companies well down the digital transformation path have fared better than those trailing in IT modernization. We're here to help with best practices, tips, and how-tos, based on our 15 years as a consulting industry leader.
Drive Remote User Productivity
Extend your corporate network and infrastructure to users working anywhere and empower them to be highly productive through familiar protocols. Securely connect any number of remote sites and users to a global file system powered by your existing storage infrastructure.
Grow Your Business
By maintaining "business as usual" during a crisis, your organization can continue to thrive in a tough global environment. Remote workforce enablement helps you gain a strategic advantage over competitors ill-equipped to support distributed users.
Overcome Data Latency
Ensure distributed users stay connected through highly optimized data transfer protocol. Help users overcome the "last mile" of connectivity, reducing network traffic to make work-from-home (WFH) users feel as though they were in the office.
Ensure Data Security
Maintain or upgrade your existing security model. Keep your firewall and protect data moving from edge to cloud. Learn why pureIntegration is trusted by major multiple-system operator's (MSOs) and other security-focused organizations.
Reduce Costs
Modernize your IT without breaking the bank. pureIntegration saves customers up to 50 percent compared to traditional systems by harnessing the power of cloud to easily scale organizational requirements and drive significant cost efficiencies.
Mitigate Risks
Ensure user data is protected, no matter where they work, and enable complete file availability and uptime for remote users while streamlining the deployment and management of storage services that ensure business continuity.
Operational Agility with pureIntegration
Business continuity is so much more than power failover and system redundancy. pureIntegration has been partnering with our customers to ensure operational agility and frictionless crisis management with automated orchestration, intelligent cloud management, and advanced application monitoring for over 15 years. Engage with us today to collaborate on a highly relevant approach to leveraging the potential of our digital transformation practices to ensure business as usual—even amid the most unusual.